SPOT: PV String and Array Level
DC-DC Optimizers for
Repowering, Solar + Storage and
Microgrid Applications
Alencon's String Power Optimizers and Transmitters (SPOTs) are the most powerful DC-DC optimizers for utility scale PV applications found on the market today.
Each SPOT has up to four (4) inputs and can accommodate anywhere from 4 to 8 strings. Each input offers its own maximum power point tracker (MPPT) assuring you achieve the highest level of energy production from your PV array for the minimum amount cost.
Each input offers full galvanic isolation between the PV string and the DC bus. The SPOT is compatible with any PV string voltage including 600, 1000 and 1500 volt PV strings.
The SPOT's unique, patented design allows output voltage to be fully configurable to the needs of your project using our unique "mass customization" manufacturing strategy.
When combined with the Alencon HUB, SPOTs can be used to perform string level monitoring as well as provide string level, remote control over the PV plant allowing for more cost effective operations and maintenance (O&M). SPOTs can also be used in conjunction with the Alencon GARD to isolate and detect ARC and Ground faults at the string level in the PV array.
The SPOT can be installed anywhere in a PV plant, either between the PV strings and the combiner box to offer string level MPPT or after the combiner box in the SPOT BOX.
The Alencon SPOT is a cost-effective tool for the following applications:
Alencon's SPOTs offer the following features, benefits and advantages:
Maximum Power Point Tracking (MPPT) on each of 4 inputs at once
Benefits
Increased energy yield for the entire system
Minimize impacts of string level mismatch including uneven soiling, cloud cover and module degradation or sporadic damage
Advantages
More energy produced
Single SPOTs offer twice the number of MPPT inputs as the next closest competitor
Change Output Voltage to Meet Your Needs
Benefits
Map virtually any variable PV input voltage to any needed output voltage
Ideal for incorporating Storage with Solar on the DC-side of the inverter
Facilitate the repowering of a failed, lower voltage inverter in a
Easily incorporate solar into a Microgrid
Assure optimal use of your inverter
Advantages
Flexibly map voltage output with the SPOT's unique Galvanic Isolation technology
Most flexible voltage modification found on the market today
Easy to Install
Benefits
Quickly mount and install in the field
Advantages
Faster deployment means lower labor costs
Galvanic Isolation
Benefits
Easily manipulate output voltage relative to input voltage with configurable, integrated magnetics

Eliminate the possibility of reverse bias being injected into the PV array for Solar + Storage applications
Advantages
Unrivaled flexibility and safety

Not offered by any other solution on the market
Granular Data Collection and System Monitoring via PV-IoT
Benefits
Intuitive monitoring of the performance of your PV plant

Maxiumum control over every string
Advantages
Quickly identify problems before they occur
The only system of its kind for utility scale PV systems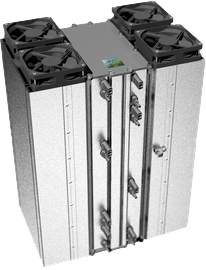 PV String Level - Outdoor Mounted Unit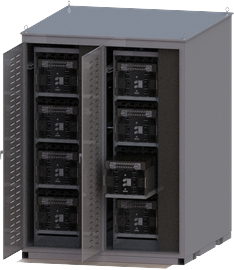 SPOT BOX - After Combiner Box Central Unit