DC-DC Optimizers: SPOT
Anyone looking at what's next for PV electrical BOS cost reductions needs to be looking at DC-DC optimization.
MJ Shiao
Director of Solar Research 
Greentech Media
Alencon's String Power Optimizers and Transmitters (SPOTs) are the most powerful DC-DC optimizers for utility scale PV applications found on the market today. Alencon's SPOTs can be used in combination with either Alencon's central inverters, GrIPs or central inverters built by virtually any other major manufacturer. Alencon's SPOTs offer a truly "best of both worlds" solution, offering the granularity of string inverters while allowing you to take advantage of the lower cents per watt cost of a central inverter while maintaining fewer connections to the grid.
Alencon's SPOTs offer the following
Maximum Power Point Tracking (MPPT) on each of 4 strings at once
Benefits
Increased energy yield for the entire system
Minimize impacts of uneven soiling, cloud cover and module degradation or sporadic damage
Advantages
More energy produced
Single SPOTs offer twice the number of MPPT inputs as the next closest competitor
Change Output Voltage to Meet Your Needs
Benefits
Map virtually any variable PV input voltage to any needed output voltage
Ideal for incorporating Storage with Solar on the DC-side of the inverter
Facilitate the repowering of a failed, lower voltage inverter in a
Easily incorporate solar into a Microgrid
Assure optimal use of your inverter
Advantages
Flexibly map voltage output with the SPOT's unique Galvanic Isolation technology
Most flexible voltage modification found on the market today
Easy to Install
Benefits
Quickly mount and install in the field
Advantages
Faster deployment means lower labor costs
Galvanic Isolation
Benefits
Easily manipulate output voltage relative to input voltage with configurable, integrated magnetics

Eliminate the possibility of reverse bias being injected into the PV array for Solar + Storage applications
Advantages
Unrivaled flexibility and safety

Not offered by any other solution on the market
Granular Data Collection and System Monitoring via PV-IoT
Benefits
Intuitive monitoring of the performance of your PV plant

Maxiumum control over every string
Advantages
Quickly identify problems before they occur
The only system of its kind for utility scale PV systems
Other products

Monitoring Software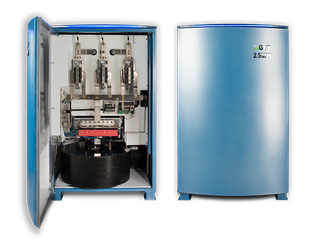 Central Inverters